24i publishes new whitepaper: 'Tales from the OTT frontline'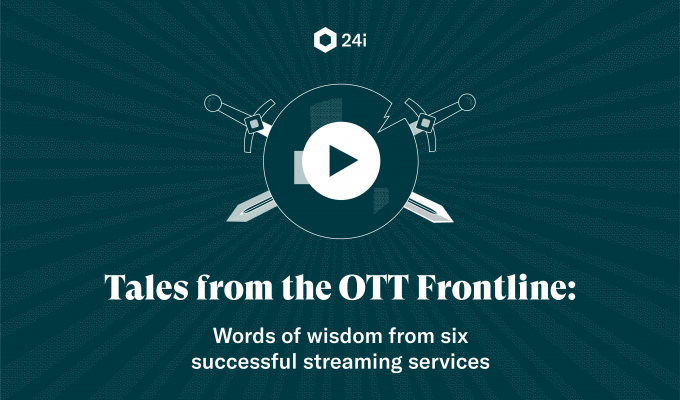 Knowing, nurturing and growing your audience; getting your business strategy right; providing an intuitive user experience (UX); and ensuring operational ease at scale are the four key areas for OTT success identified in 24i's new whitepaper. In 'Tales from the OTT Frontline: Words of wisdom from six successful streaming services', 24i enlists the help of its customers to analyse the challenges, opportunities and critical success factors faced by specialist streaming providers in a market dominated by giants like Netflix, Disney+ and Amazon Prime Video. Pure Flix, Topic, Game Show Network, Broadway HD Flow Sports, and Newsmax share their first-hand experiences and learnings on how they have achieved success in the OTT industry.
Some of the key findings discussed in the Whitepaper include: the importance of analytics in knowing, attracting, and retaining an audience and reducing churn; the dividends that come from adopting a flexible business strategy that can move between subscription and advertising-based models or combine AVOD and behind-the-paywall SVOD offerings; the fundamental role of a well-curated content library alongside powerful and intuitive search functions, a fully featured UX and optimised app performance, in increasing customer satisfaction and retention; and the significance of planning ahead for operational ease at scale, and the benefits of outsourcing multi-platform app development.
"The massive surge in streaming over the past months has shown that the OTT industry will continue to grow quickly," said Joachim Bergman, co-CEO at 24i. "There is no doubt that there are some big names dominating the industry, but this doesn't mean other content providers cannot unlock unlimited opportunities if they think strategically. Together with our customers, we have demonstrated that OTT success is possible with the right customer intelligence and business and operational strategy, powered by innovative streaming solutions. We are excited to share the experience we have gathered through our work with our valued partners. We hope the whitepaper will be a useful tool for other content providers looking to reconsider their strategies and plan for success."
Ryan Chanatry, general manager at Topic, said: "To succeed in OTT your guiding principle is to stay connected to your customer. It's a learning curve, but our experience has shown that a data-driven, consumer-centric approach that delivers excellent UX with a flexible business strategy are as critical to success as high-quality and easily discoverable content. We are delighted to be part of this whitepaper that proves you don't need to have a Netflix-sized budget or technology team to succeed in our industry. We hope that our insights will help level the OTT industry playing field."
 Read the full Whitepaper here.
Company Name: