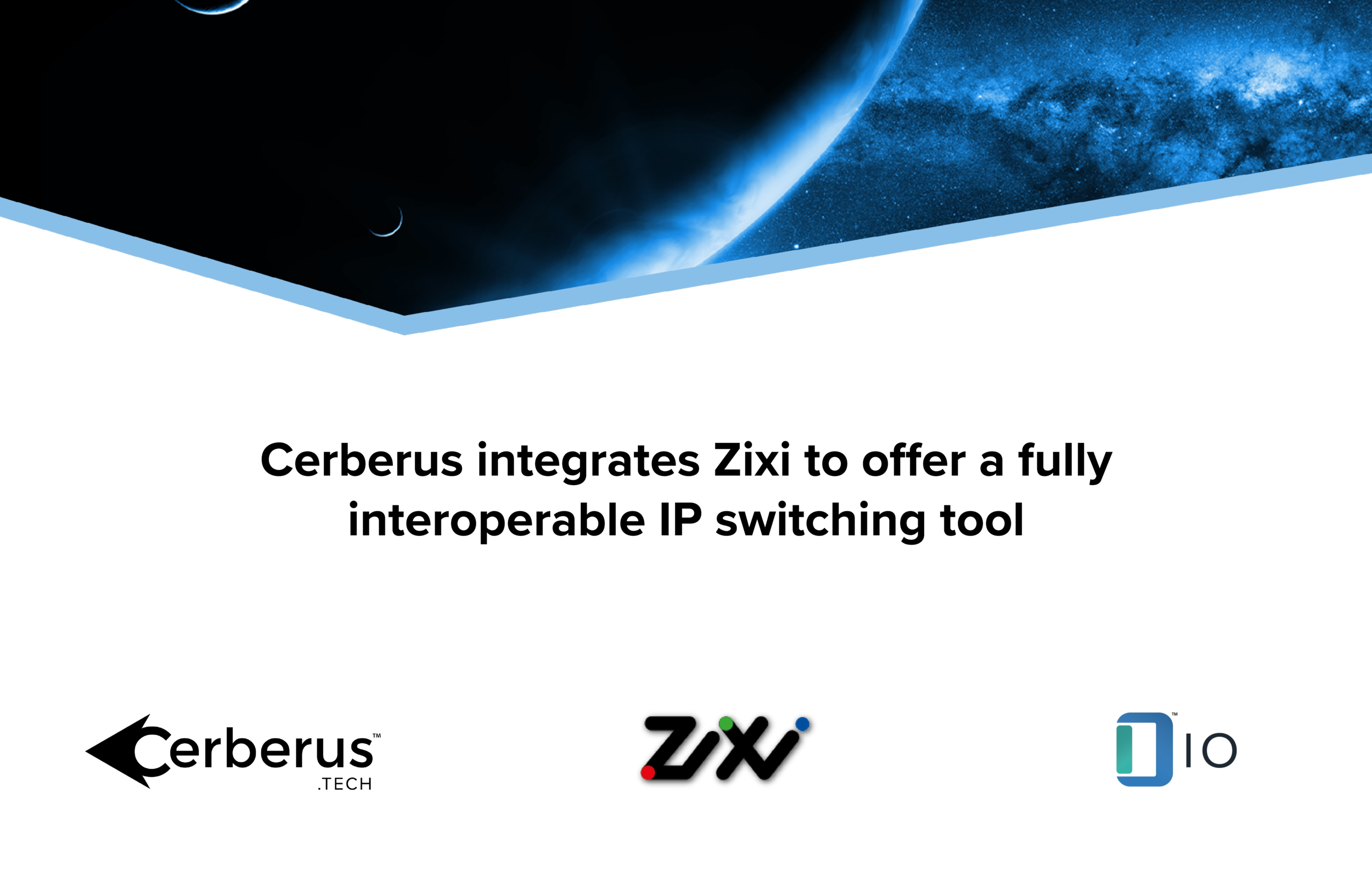 Cerberus Tech Ltd has announced that IO, its software based live IP video switching platform, has successfully integrated Zixi's Software-Defined Video Platform (SDVP). IO is a point-to-point, or point-to-multipoint, broadcast delivery application built using the power of docker. Through a simple and intuitive user interface, IO enables automatic switching between open video transport stream protocols, including the Zixi protocol as well as RTP, RIST, SRT, RTMP and HLS.
IO can be used for either sending or receiving, or can sit in the middle as a broadcasting device, acting as a central hub for distribution of content. It can be used to bring in feeds in any supported format and convert between them for delivery direct to channel partners, broadcasters, CDNs, OTT, as well as global head ends.
Leading media organisations rely on the Zixi protocol for transport as it is congestion and network-aware and dynamically adjusts to varying network conditions, employing patented forward error correction techniques for error-free video delivery with up to 30% bandwidth efficiency. Using the Zixi protocol users can deliver content directly and securely to partner services supporting any format, ie remote production, channel partners, broadcasters, CDN's, as well as global head ends.
With this joint solution, customers can adapt flexibly and cost effectively to changing technology developments, take advantage of emerging protocols & standards, scale channel deliveries and make IP technology work for their businesses. Compatible with any other device using the same standards allowing interoperability and giving greater flexibility, IO can be installed as a container on hardware, virtual machine or cloud, as well as behind the protection of organisational firewalls.
On the integration of Zixi, Chris Clarke, CEO, Cerberus Tech, said: "Cerberus Tech has been a partner, reseller and customer of Zixi's for 7 years and we use its technology across all of our services. It was always our goal to integrate its technology into IO and we are pleased to have achieved this now.  IO can now be used to contribute to, or accept feeds from, the wider Zixi ecosystem and we look forward to helping more of our customers move seamlessly into an IP based future."
John Wastcoat, SVP strategic alliances, Zixi, said: "Zixi has spent over 14 years perfecting live broadcast quality delivery over IP at scale, a task which has only increased in complexity. With the integration into Cerberus IO, customers can easily enable Zixi for superior live video contribution or distribution over any IP network with the SDVP that offers resiliency, reliability and ultimate flexibility."
Company Name: