Graham Pitman awarded lifetime honorary IABM membership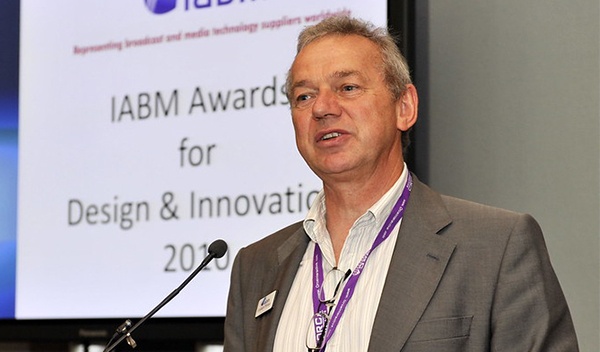 Graham Pitman is the latest industry luminary to be awarded lifetime Honorary IABM Membership. The honor was officially bestowed at the IABM Awards Show earlier this month following the conclusion of the second day of BaM Live!. Pitman joins an exclusive club of people who have had an enormous impact on the broadcast and media industry as it has grown and developed over the last 40+ years. This group of honorary members includes Alan Brill, Naomi Climer, Roger Crumpton, Jan Eveleens, John Ive, Larry Kaplan, Lyle Keys, David MacGregor, Mike Martin, Derek Owen, Peter Owen, John Ross, Martin Salter, Clyde Smith, and Roderick Snell. 
Graham Pitman didn't set out to have a lifelong career in the media and broadcast technology sector - it was 'happenstance more than choice', he says. On advice from a student in the year ahead of him at Kingston University, he applied to the BBC for an engineering role at BBC Equipment Department and was accepted. Subsequently, having moved to BBC Designs Department, he left the BBC to join Prowest, but Prowest soon afterwards was acquired by EMI. So, at the age of 27, Pitman joined co-founders Derek Owen and David Steel to form Pro-Bel. The company grew and flourished on the international stage and quickly became the leading European supplier of routers and modular products. In 1996 Pro-Bel was purchased by Chyron, and its star began to wane. In 2003 Pitman led the management buyout that brought Pro-Bel back to life, acquiring Vistek in 2005. He then drove the merger of Pro-Bel with Snell & Wilcox - in the process winning the Private Equity Deal of the Year award. Since then Pitman has maintained a portfolio of non-executive roles, helping a number of early-stage companies through to successful exits and conducting several M&A deals on the way. He has been closely associated with IABM right from its early days, was elected chair of the members' board in 2005 and became vice chair in 2011  a position which he stepped away from earlier this year.
Graham Pitman said: "I am proudest of the people whose lives and careers I have touched upon my journey. I look around the industry and see them all, and rather quaintly and paternally think of them as 'my people' and am delighted to see them prosper, win promotions or start new enterprises. It is especially pleasing to work alongside several of them as the senior independent director at Pebble. I am delighted to receive this recognition from IABM. I know that I played the role of a catalyst in helping IABM develop into the truly international association it is today and become the go-to resource for knowledge and analysis on the broadcast and media industry as a whole. I will continue to follow its progress and as an honorary member I have a great excuse to keep in touch." 
Peter White, CEO, IABM, said: "Graham's advice and support as vice chair over the last nine years has been a tremendous asset to me personally and the wider IABM team. This honour is richly deserved not only for the unstinting contribution he has made to IABM over many years, but also in recognising his long and successful career in broadcast and media technology. Graham must be one of the best known and most respected people in the industry. I know many people around the business will be saying 'great choice!' on hearing this news."
Company Name: