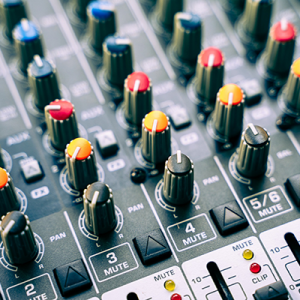 The IABM has released its updated Audio Sector report, which shines a light on how much the coronavirus pandemic has changed priorities in the sector compared with the last edition of the report in June 2019. The report reveals the significant and at times surprising effects the coronavirus pandemic lockdowns have had on this important sector of the broadcast and media industry.
The full report, which includes an overview of the market, an analysis of the drivers of change and the entire audio content supply chain,  is available from the IABM website. Headline findings of the Audio Sector report are:
COVID-19 has led to a realisation of the importance of audio quality, as disruptions hit production standards.
The pandemic has incentivised consumers to increasingly stream audio-only content, spurring growth in sectors such as podcasting.
From a technology perspective, audio virtualisation and remote production deployments have accelerated out of necessity, while other trends such as immersive audio have slowed down.
Some audio business drivers, such as the move to easy-to-use products, have also been accelerated by COVID-19.
Demand from live sectors such as music and theatre has plummeted while other buyers such as streaming, smaller audio content creators and some adjacent markets have increased investment.
The audio supply chain has been hit by the pandemic-induced cancellations of events and productions more than it has benefited from new waves of spending from remote working, production, streaming and small audio producers.
Some audio technology suppliers have pivoted to cater to the needs of new segments, as well as to accommodate the health and safety requirements of the pandemic in some sectors.
Lorenzo Zanni, IABM's head of knowledge, said: "The audio sector in general responded strongly to the challenges brought about by the coronavirus pandemic. While live events work and developments - important drivers in the sector - necessarily took a back seat, and stay-at-home viewers were increasingly happy to accept 'COVID quality' video, the importance of high-quality audio really came to the fore. Ease of use for non-expert, necessarily-remote operators has also risen up the priority list as have virtualisation and remote production deployments. The pandemic has also driven a huge increase in the streaming of audio-only content, particularly podcasts and audio books, particularly among younger audiences. The updated Audio Sector Report will richly reward ten minutes' attention from everyone involved in broadcast and media."
Company Name: