Imagine Communications receives 2020 Emmy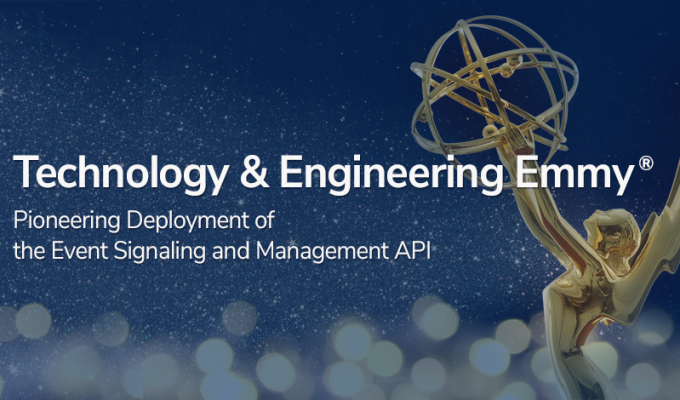 Imagine Communications has received its 11th Technology & Engineering Emmy Award from the National Academy of Television Arts & Sciences (NATAS). This year's award recognises the company for 'Pioneering deployment of the event signaling and management API', which was foundational to the television industry's drive toward multiscreen advertising.
"Imagine has long been leading innovation on the commercial and technical drivers for change in broadcast and cable advertising, as part of the online, video on demand revolution," said Steve Reynolds, president, Imagine Communications. "It is rewarding to see our vision for the future of television advertising become a reality, and a real honour to receive this type of recognition. We look forward to continuing to innovate for our customers by optimising audiences and revenues across platforms."
Event signaling and management (ESAM) technology, now standardised as SCTE-250, is critical for dynamic ad insertion in cable streams to match that of digital services - something that Imagine has been developing for a decade in technologies such as its Video Delivery Edge (VDE) and Linear Parity Management (LPM) solutions. Imagine's involvement in the deployment of ESAM dates back to 2012, when the company's (formerly RGB Networks) ABR encoding and real-time packaging technology supported an interop demo that was billed as the first end-to-end, standards-based solution for delivering multiscreen advertising.
In 2015, Imagine was recognised with an Emmy Award for 'Pioneering optimisation of advertising placement in single channel linear television programs', for ground-breaking ad insertion technology that serves as the foundational technology behind today's advanced and fully automated advertising sales and traffic systems. Imagine's innovation roadmap is focused on the development of a fully integrated platform that allows media companies to dramatically lower their costs and drive higher revenues in the face of declining traditional viewership. The company is the only provider in the market that automates and drives higher yield on advertising inventory across digital and traditional linear, while offering the back-end systems to drive playout of both live and VOD content.
The 72nd Annual Technology & Engineering Emmy® Awards ceremony will take place in partnership with the National Association of Broadcasters (NAB) Show on 10 October 2021.
Company Name: