RIST Forum adds APT and NBC Universal as members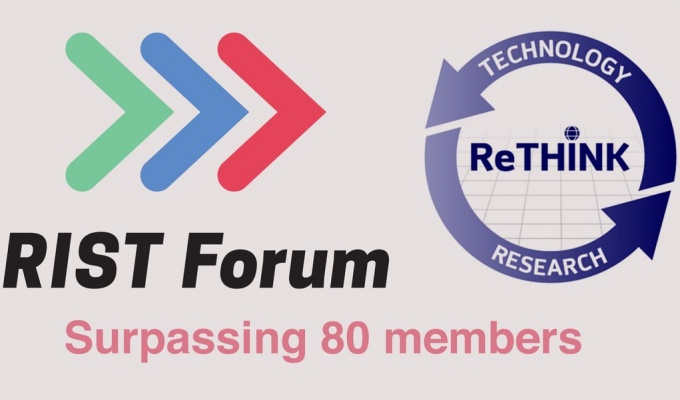 15 new companies have joined the Reliable Internet Stream Transport (RIST) Forum, joining the growing number of members committed to adopting the RIST protocol for high quality broadcast-grade video over the public internet. The group now has more than 80 members from across the industry.
DTV Innovations has joined as an Associate Member, with the following joining as Affiliate Members: American Public Television (APT), Arena HD, Broadcast Wireless systems, Caton, Cyan View, Enensys, Hitachi-Comark, NBC Universal, Sienna TV, SIP Radius, Softvelum, Tata Communications, Tubical, and Videohouse.
The RIST Forum is a not-for-profit association of leading vendors and global broadcast operators that have established an interoperable standard for delivering video over the public Internet. 
Contemporary video transport is subject to loss of quality due to the inconsistency of internet performance over time and across the world – the RIST protocol means you can deliver high quality video even when bandwidth is limited.
Arielle Slama, co-chair, the RIST Forum, said: "A warm welcome to our 15 newest members, who join the growing number of companies that are committed to delivering high quality video to audiences across the world."
Suzana Brady, co-chair, the RIST Forum, added: "The continual growth in RIST Forum members shows the adoption of the RIST protocol is gaining momentum with broadcasters as well as tech vendors supplying the media industry. This is illustrated by broadcasters APT and NBC Universal becoming RIST Forum's latest members – it's fantastic to see end users of RIST getting behind the protocol."
RIST aims to create an industry-wide, interoperable transport solution that can be implemented by any vendor into its equipment. RIST has been successfully deployed in commercial operations across the world thanks to its interoperability and standards-based approach. 
Company Name: