About us
Zixi provides a cloud based and on-premise Software-Defined Video Platform that enables reliable broadcast-quality video delivery over IP. The company offers technologies for broadcasters, enterprises, over-the-top video providers, and mobile service providers around the world. Zixi's Software-Defined Video Platform makes it easy and economical for media companies to source, manage, localize, and distribute live events and 24/7 live linear channels in broadcast QoS, securely and at scale, using any form of IP network or Hybrid IP environments. Zixi provides enhanced control in large complex networks with ZEN Master, a live video orchestration and telemetry control plane that provides visual tools to configure, orchestrate, and monitor live broadcast channels and events across industry protocols. Over 10+ years, the Zixi Enabled Network (ZEN) has grown to over 150 OEM and service providers and serves well over 500 customers representing most of the top media brands around the world with 10,000+ channels delivered daily.
Posts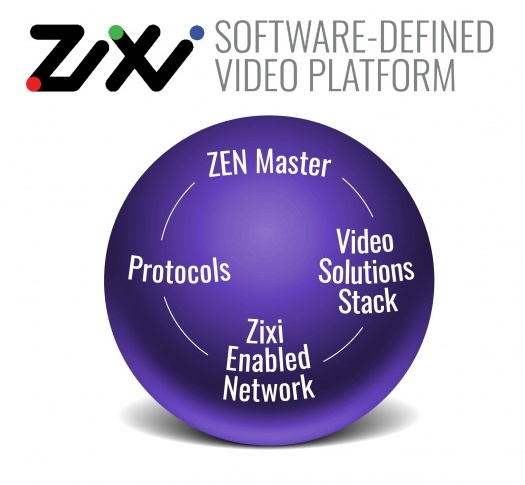 Zixi Software-Defined Video Platform
The Zixi Software-Defined Video Platform (SDVP) is the tight integration of four crucial elements that enable broadcast-quality live video workflows to be intelligently and centrally provisioned, deployed, managed and monitored using software and integrated devices, regardless of the underlying network infrastructure. The four elements to the Zixi SDVP are: ZEN Master, Video Solutions Stack, Protocols, and the Zixi Enabled Network. ZEN Master – Zixi provides control over large complex networks with ZEN Master, our Live Video Orchestration and Telemetry Control Plane. This cloud-based interface provides visual tools to configure, orchestrate, manage and monitor live broadcast channels at scale and across industry protocols. Video Solutions Stack – The Zixi Video Solutions Stack provides essential software tools and core media processing functions that enable broadcasters to transport live video over any IP network, correcting for packet loss and jitter. Zixi's software algorithms optimize the streams between the Zixi Feeders, Zixi Broadcaster and Zixi Receivers and work in concert to deliver live video over IP and hybrid IP networks. Protocols – Zixi provides an industry-leading congestion and network-aware protocol that dynamically adjusts to varying network conditions and employs error correction techniques for error-free video transport over IP. The Zixi SDVP accepts 15 industry protocols: Zixi, RIST, MPEG-TS over UDP, RTP, RTP+FEC, UDP, MMT, HLS, CMAF Low Latency HLS, DASH, RTMP, SRT, Multipath TCP, TCP BBR and RTSP Zixi Enabled Network - Zixi's global network of 150+ integrated technology and service provider partners, allows our customers to leverage the largest global ecosystem for live video. It is these four components of the Zixi SDVP working together that leads to superior, video distribution over IP for our customers.