About us
Witbe started in 2000 when Marie-Véronique Lacaze and Jean-Michel Planche had a vision: to revolutionise the way we measure and control the quality of a service in a user-centric world. Over 20 years later, its devotion to the way it delivers quality of experience monitoring has remained the same. More than 300 companies in 50+ countries now rely on its state-of-the-art technology to improve the experience they offer to their customers.
Posts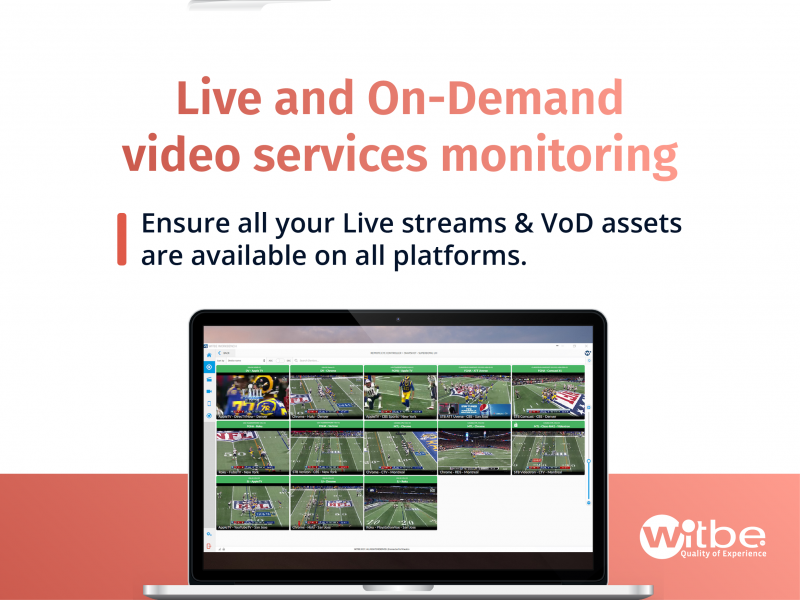 Live and On-Demand Video Services Monitoring
Ensure all your live streams and VoD assets are available on all platforms.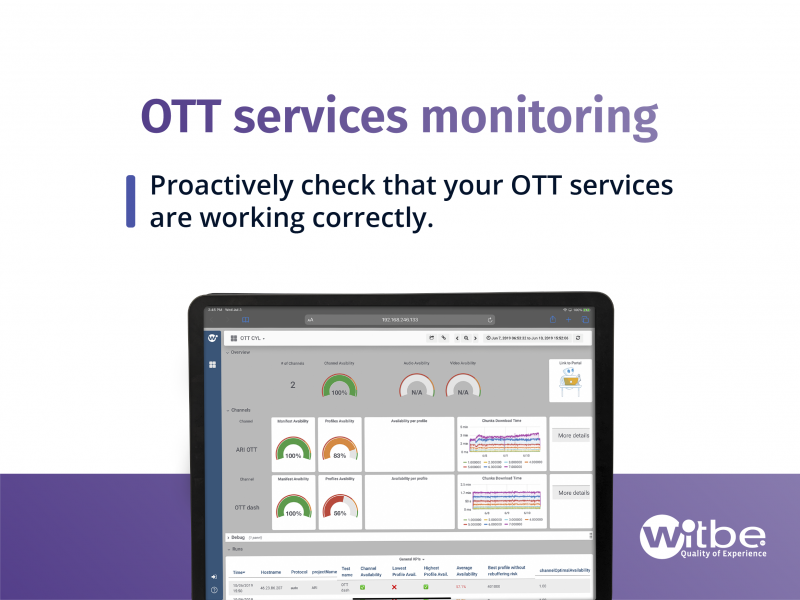 Proactively check that your OTT services are working correctly.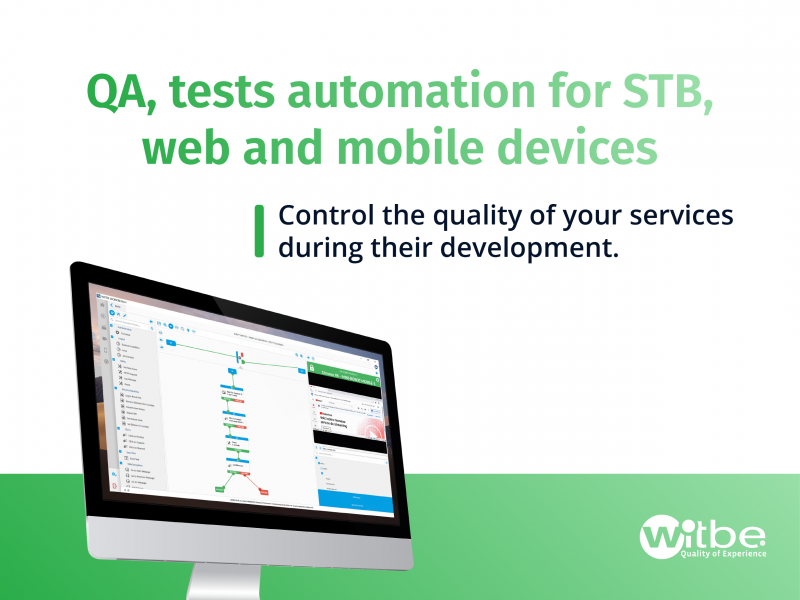 QA Tests Automation for STB, Web and Mobile Devices
Control the quality of your services during their development.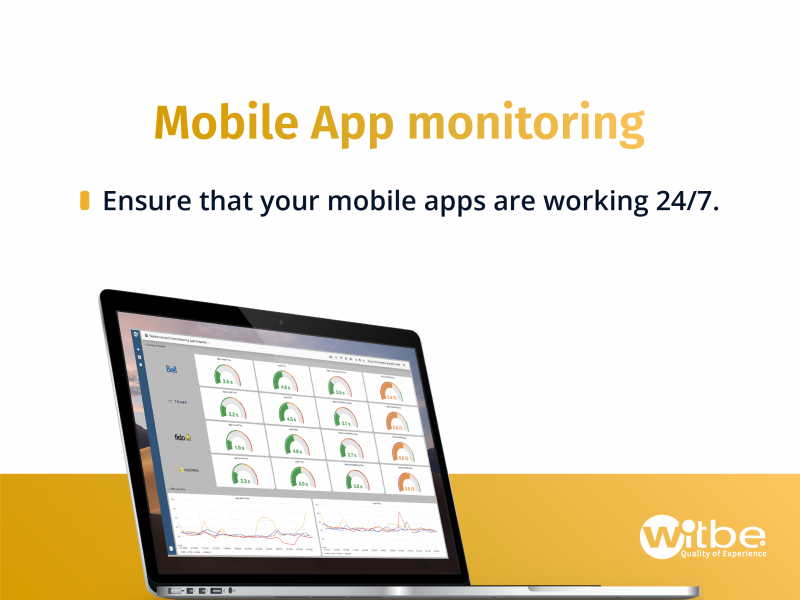 Ensure that your mobile apps are working 24/7.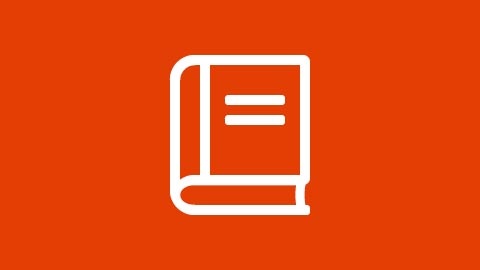 Turkcell selects Witbe to monitor the Quality of Experience of its video services
Paris, France – July 18th, 2019 – Witbe, the leader in Quality of Experience Monitoring, has been selected by Turkcell, a digital operator headquartered in Turkey, to automate the analysis and testing of their main end-user digital services such as BiP, TV+, Fizy and many others. Witbe will also cover the automation testing of Turkcell set-top-boxes and third party set-top-boxes. Witbe Robots will support Turkcell to provide the best video quality and user experience to its customers. Turkcell wants to provide the best-in-class experience to their customers. Therefore, they sought out cutting edge technology to make sure that new app releases and changes in the encoding backend or in the set-top-box software do not introduce any kind of error on the videos they play back on their set-top boxes and/or mobile devices. Turkcell has decided to work with Witbe to cope with this challenge, choosing Witbe Video & Media Robots and proprietary algorithms Witbe VQMOS and Witbe VQ-ID, representing precisely how the human eye perceives the quality of a video. Witbe Robots will ensure that any video quality disruptions will be detected before the deployment of any changes and will speed up the analysis and diagnostics of sporadic field issues. Elif Yenihan Kaya, Access Network Capabilities Director at Turkcell, said: "It is fundamental for us to deliver the best end-user experience for Turkcell customers. We will keep working with Witbe for continuously improving the Quality of Experience." Mathieu Planche, Chief Executive Officer at Witbe, further commented: "We are very proud that we were selected by Turkcell. We are helping them to deliver an impeccable Quality of Experience to their customers. It is also an honor for us to add Turkcell to our European customer base, supporting our ongoing growth in the Turkish market. This is also why Witbe is back again at IBC this year, to meet our clients and prospects in Europe. Our team will be welcoming you in hall 5 on booth A69, ready to give you a demo of our competitive advantages." About Turkcell Turkcell is a digital operator headquartered in Turkey, serving its customers with its unique portfolio of digital services along with voice, messaging, data and IPTV services on its mobile and fixed networks. Turkcell Group companies operate in 5 countries – Turkey, Ukraine, Belarus, Northern Cyprus, Germany. Turkcell launched LTE services in its home country on April 1st, 2016, employing LTE-Advanced and 3 carrier aggregation technologies in 81 cities. Turkcell offers up to 10 Gbps fiber internet speed with its FTTH services. Turkcell Group reported TRY5.7 billion revenue in Q119 with total assets of TRY46.1 billion as of March 31, 2019. It has been listed on the NYSE and the BIST since July 2000, and is the only NYSE-listed company in Turkey. Read more at www.turkcell.com.tr About Witbe Leading innovation in the Quality of Experience (QoE) industry, Witbe offers an award-winning approach to monitor the Quality of Experience actually being delivered to the end-users of any interactive service, on any device, and over any type of network. Combining hardware and software, Witbe's state-of-the-art technologies have already been adopted by over 300 clients in 45 countries. Telecom operators, broadcasters, application developers: all rely on Witbe to improve the experience they offer to their customers. Founded in 2000, Witbe has offices in Paris, New York, Denver, Montreal, London, and Singapore. Witbe is a company listed on Euronext Growth (ALWIT.PA). More info on www.witbe.net Contact Witbe: press@witbe.net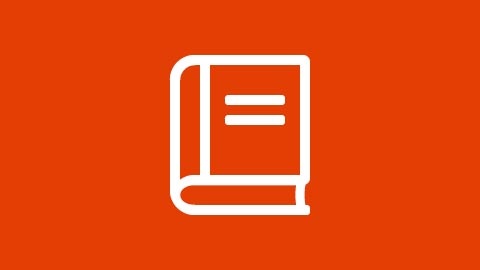 Witbe partners with Sofrecom to support customers in Indonesia with QoE technologies
Paris, France – October 3rd 2019 – Witbe, the leader in Quality of Experience Monitoring, is proud to announce a new partnership with PT Sofrecom Indonesia a consulting and engineering firm specializing in telecommunications. This partnership will allow Sofrecom to offer support and consulting services on Witbe's Technology to telecommunications companies, cable operators, broadcasters and OTT providers in Indonesia. Witbe has developed an approach based on robots replicating users' behaviors. Witbe Robots can watch a video, tune to a specific channel, use STB guides etc. This technology can proactively detect any service deterioration, allowing services providers to improve their end users' quality of experience. "Witbe, our new solution partner is a leading company in the Quality of Experience industry with its unique robot able to provide the technology and analytics that digital service providers need to proactively test and monitor the availability, performance and integrity of their service offering." commented Dominique Loth, CEO of PT Sofrecom Indonesia. "Through this new collaboration, PT Sofrecom Indonesia leverage its strong presence of 25 years in Indonesia, aiming to develop new opportunities and build a sustainable partnership that will bring diversified business solutions to our clients, and marks our willingness to be more present, agile, and adaptive to the currently highly disruptive and fast-paced digital ecosystem of Indonesia." Also commenting on the partnership, Witbe's president Marie-Véronique Lacaze, said: "We are pleased with this new partnership, which has been successfully concretized through the deployment of our technology with a major Indonesian online sports network and which allows us to strengthen our presence in the Asia Pacific region." About Sofrecom Sofrecom, an Orange Group subsidiary, serves telecoms operators worldwide, drawing on its unrivaled expertise in prospective studies, business consulting, networks and IT. Sofrecom contributes to the development and to the transformation projects of its clients: operators, governments and regulators. This is done by bringing them operational solutions and the experience of the Orange Group. Thanks to the unique know-how of our 1750 consultants and experts, its customers benefit from a fine knowledge of the actual market and telecommunications stakes. Sofrecom has developed over almost 50 years its unique ingenuity in the operator businesses. As a result, it is now a world leader in information and communication technologies (ICT) as well as business consulting for the telecoms industry. Its experience of mature and emerging markets combined with its deep understanding of the structuring changes which affects the telecoms market, make it a valued partner for operators, governments and international investors. For more information: www.sofrecom.com About Witbe Leading innovation in the Quality of Experience (QoE) industry, Witbe offers an award-winning approach to monitor the Quality of Experience actually being delivered to the end-users of any interactive service, on any device, and over any type of network. Combining hardware and software, Witbe's state-of-the-art technologies have already been adopted by over 300 clients in 45 countries. Telecom operators, broadcasters, application developers: all rely on Witbe to improve the experience they offer to their customers. Founded in 2000, Witbe has offices in Paris, New York, Denver, Montreal, London, and Singapore. Witbe is a company listed on Euronext Growth (ALWIT.PA). More info on www.witbe.net Contact Witbe: press@witbe.net